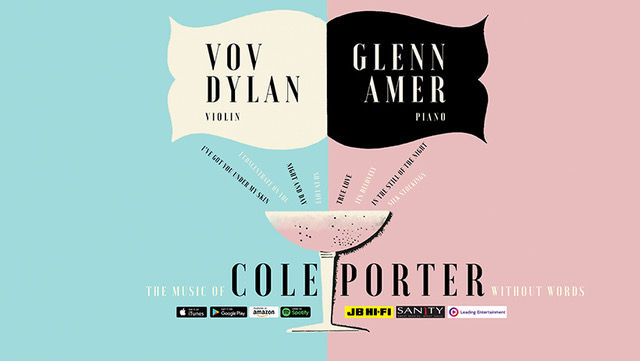 The Music Of Cole Porter Without Words
As heard on Radio 2CH with Bob Rogers, ArtSound FM with Bill Stephens, Radio 6PR with Jon Lewis, West Bremer Radio DAB 1197 with Damien Lee, Radio 2RRR with Natalie de Silver, Radio INNER 96.5 with Kevin Trask, Radio Casey with Leigh Drew, Radio 3RPP on Sugar and Spice
-------
The music of Cole Porter has been loved by generations across the globe. He was one of the rare composers who wrote both melody and lyrics, and as such you often hear his compositions with these two components married together. As an instrumentalist, I have always adored the melodies and the harmonies that Cole Porter wrote. This album is a celebration of some of those melodies - without the words.

Every track has been arranged based on the original structure, progressions and musical intent - with a few alterations to suit the playing style of both Glenn Amer and Vov Dylan.

Recorded at Underwood Studios in Sydney's Blue Mountains the audio experience for the listener is meant to be an intimate one, as if you were popping a bottle of champagne and having Glenn and myself in your living room and serenading you with these melodies.

CREDITS

Vov Dylan - Solo Violin
Glenn Amer - Piano
Cole Porter - Composer
Craig Fields / Underwood Studios - Recording Mixing Mastering
Ian Phillips - Artwork

TO BUY / LISTEN:

Buy in the Vov Dylan Online Shop

The following link takes you to all the other in store and streaming options......
| | |
| --- | --- |
| Listen to samples on Spotify | Listen to So In Love on Youtube |