HOOKED ON INSTRUMENTAL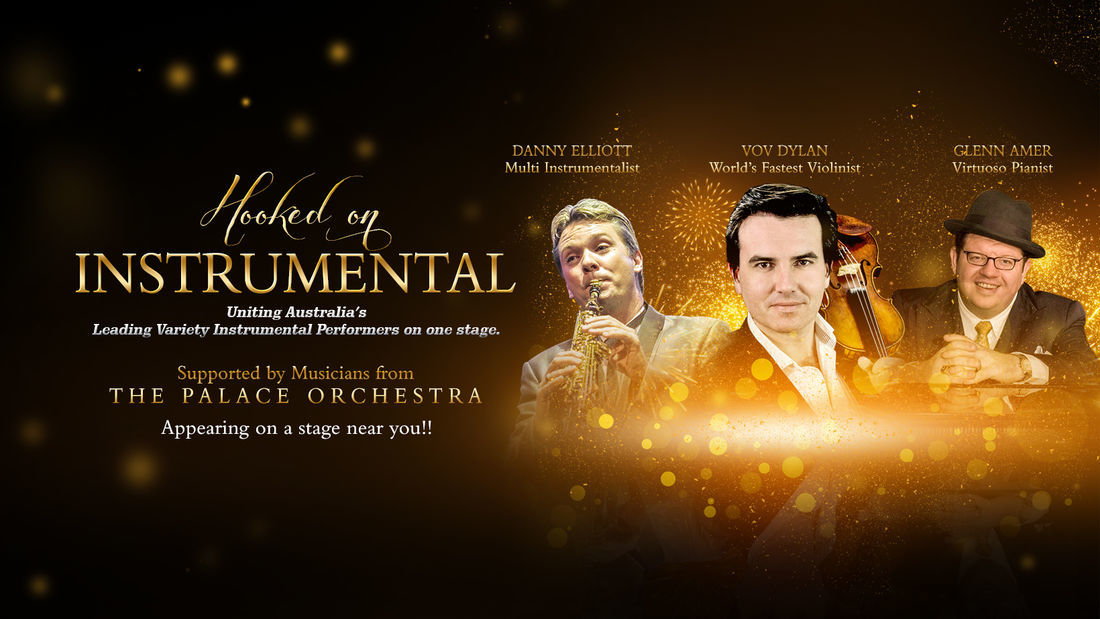 HOOKED ON INSTRUMENTAL
Starring
VOV DYLAN
DANNY ELLIOTT
GLENN AMER
Supported by the musicians from The Palace Orchestra
"Where the vocals are provided by the audience as they sing-a-long!"
Combining on one stage the talents of three of Australia's most in demand and versatile Variety Instrumental performers. From Cabaret, Opera, Musical Theatre, Jazz, Rock, Gypsy, Folk, Country, Disco and Pop – this show has it all!!!!
Violinist Vov Dylanhas been entertaining audiences since he was 5 years old. He has toured Australia and the globe, appeared in film and TV, his albums have international distribution and he holds the title of being "The World's Fastest Violinist". Audiences have referred to him as Australia's Andre Rieu, Stephane Grapelli, Yehudi Menuhin and David Garrett combined in one body!
Pianist Glenn Amerhas walked the line of classical and variety entertainer all his life where he has at the same time been a headline cabaret entertainer, and a conductor for Opera Australia. His piano playing has featured on multiple albums that have been chart toppers, his solo shows have seen him travel the world on land many times over.
Multi Instrumentalist Danny Elliotthas audiences watch in disbelief as he plays instrument after instrument, song after song….. it is no wonder he has won multiple awards for versatile variety entertainer!!! Danny has toured through Australia and much of the world with his own combination of classical, Rock, Swing, Irish, and country fiddling (and that is just the start!)
The Show will be supported by members of Vov Dylan's Palace Orchestra.
For Booking Information: info@vovdylan.com